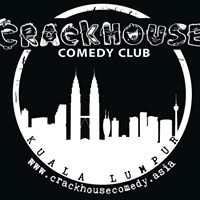 ABOUT CRACKHOUSE COMEDY CLUB
Crackhouse is Malaysia's first dedicated comedy club showcasing the best of local, regional and international comics with four shows a week. The club has hosted international names such as Paul Ogata, Tamer Kattan and Tom Rhodes as well as established Malaysian comics such as Douglas Lim, Joanne Kam and more. The club opened in 2014 and is founded by Rizal Van Geyzel, & Shankar Santhiram. Crackhouse is sought after by regulars and first timers as the go-to for edgy, unpretentious and hilarious acts local and international.

Every Wednesday - Open-Mic Night | Open Crack!
Every Thursdays - Bahahasa 'Stendap Komedi' / Hack The Crack! / AiiA Improv
Every Fridays & Saturdays - International/Local Headliner Night

All shows start 9.00pm until 10.30pm with a 10-minute break/intermission

IMPORTANT NOTICE:
1. Doors and Bar opens at 8.00pm
2. Table and seating placement under management discretion
2. By 8.45pm we are required to release all no-show bookings and reserved seats
3. We do not accept requests for ticket refunds
4. For student purchases, bring your Student ID with you and flash your card upon registration at the door. No card, no entry.
5. Seat allocations are kept to the clubs discretion.
6. 18 years and above only
Want to find more groups and events like this?